The Functions of 


Infinite Choice of Loading
Thanks to a dedicated software application, parents can load any sound file in 

 . The files come from your own music library or directly from a CD. Thanks to the software, 

's song library can be renewed indefinitely.

Up-load up to 24 songs
Your child can directly access 6 types of music by using the buttons on the front of the box. A selector on the right side multiplies the choice by 4. The 2GB available memory allows the child to listen to up to 6 hours of quality music recordings.

High Quality of Sound
To respect the eardrums, the music recorded inside 

 is not compressed. The subtleties of the sound tracks can be enjoyed. The speaker was carefully chosen to optimize the tones of the children's songs.

Educational

  brings your child more than music. She makes him think and react. The act of listening is active and not passive, since the tracks don't play continuously. Voluntary action is taught with the usage of the 

 and the need to select the next music.

Adjustable Sound Level
Two volume levels are available: low and medium. Since the sound quality is exceptional, a "strong" volume is not necessary. This switch also allows your child to control 

 by turning off his toy. Note: a dedicated parental control button is available.

USB – Plug-in to Charge
Thanks to the battery that can be charged with the provided micro-usb cable, disposable batteries and a screwdriver are no longer necessary. A luminous indicator monitors the battery charge level: charging is red, charged is blue.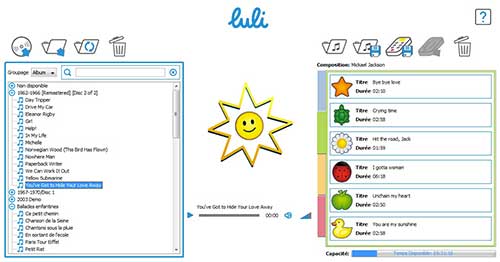 This application aims to be accessible to all. It is simple and intuitive and can be used with Mac OS, Windows or Linux. It can access all of the computer's music files (wav, mp3, mp4…) as well as CDs. An indexing system helps you easily find her/his favorite songs . The compilations can be prepared in advance. A user guide and a FAQ page are available.